Captain
Captain" is about 2 years old and came from a small town in Kansas where his family dropped him off at a kill shelter due to his high prey drive. We think that living out in the county where he had the run of the land with not much human interaction caused Captain to be non-responsive to people. You see, Captain doesn't seem to know how to connect or listen to people; he lives in his own little world, doing whatever he wants whenever he wants, and this makes it very difficult to place him up for adoption.
Captain is very people friendly but does not understand when we try to communicate with him. At first we checked him for deafness, thinking that an inability to hear was causing him to "ignore" our attempts to communicate with him. However, we now know that he can hear and he simply does not understand how to listen to people because he does not know we are talking to him. It breaks our hearts knowing that this boy has been alone from the beginning of his life, with no human love or relationship except for food & water.
He is a sweet boy and definitely worth saving, so we are reaching out to you to help us pay for a Board & Train Program with Brian Bergford at Uptown Dog where he can learn to connect with humans and socialize in dog playgroups. Captain is okay with one or two dogs but, again, he is under-socialized and this too will be a learning process for him.
Captain is under our care now and we think he is a super boy worth every ounce of assistance we can give him! We are hoping you will agree and will help us as we support Captain's rehabilitation. We are in need of funds to pay for a month-long training program that will get Captain ready to be a member of a loving family.
Thank you for any support you are able to offer Captain!
Update – 10/28/14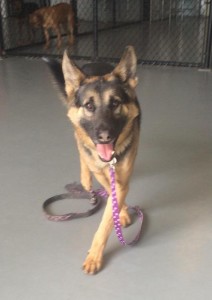 Dear Katie, Captain here. I wanted to update you and all my fans and supporters on my progress. Would you please pass this information along? Thank you…
I arrived in Longmont and have been working with Brian at Altitude Dog Training since the 6th of October. As you know, the biggest problem is that I was – admittedly – completely unresponsive to people and any commands they issued. I have always been friendly with people, I just didn't have an opportunity to bond with them, and I really needed some patient coaching.
Since I got here, I have been learning new things every day. I didn't know that training could be enjoyable, but I have since come to find that treats are actually pretty yummy, and humans are fun! It's been hard work and my brain sometimes gets tired. Luckily, I get lots of attention as well as down time to rejuvenate. I now know how to sit, lie down, stay, go to and stay on my place (comfy bed), heel while walking, and come back when called. This was tough for me because I literally knew none of this at any level 3 weeks ago. But Brian says I'm doing awesome and I feel really good about that.
I also used to get overwhelmed by other dogs very easily. Before I came here, I could only tolerate being with 3 dogs at any given time. Beyond that I would get a bit snappy. I couldn't help it – I honestly felt a little scared. Now, I'm much more confident. I can comfortably be in groups of 15 to 20 dogs and I even enjoy playing with my good buddies every day.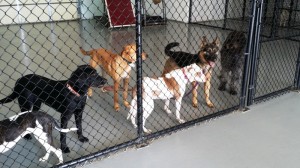 It's still a bit challenging for me to focus when there are a lot of distractions. Brian has been supporting me with this a lot and I have a ways to go still. However, I'm proud to report that last week I listened even when a crazy squirrel named Bruce was teasing me mercilessly. I really wanted to chase him and see what he tasted like, but I decided to check in with Brian and he seemed really happy because he kept giving me pets and cookies.
Well, I'd better go now, but please say thanks to everybody who is supporting me. I'm having a great time and can't wait to show you the new me. It's feeding time so I'd better go. Then it's time to study and get a night's rest before school tomorrow. I'm so excited to find my new home after I'm done. Brian says I'm going to be an awesome dog for a lucky family…
Hugs and thank you for your support
Captain
Update – 11/04/14
Well I graduated with flying colors, so I'm told, and I am such a different boy now that I know humans are nice people to be close to and I listen very well, I had a great time with Brian and his group and I learned so much from all of them. I have great news to share, my rescue friends found a nice lady to take me in as a foster child and now she says she can not imagine life without me so I have a new home and family to call my own. My mom is a horse trainer and working with animals comes easy to her and even though I can still be somewhat of a challenge she is loving the experience of teaching me how to be a pack member. And the other great news is I am living out in the country which is so much like the place I was born and grew up in. I have some land to run on and horses to watch over and I have to say that I feel that I am the most fortunate little dude alive. Thank you rescue people for saving my life and giving me a new chance with people that really care about me.