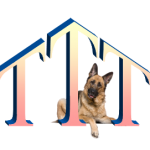 Tracey's Training Tips
GSROR is delighted to welcome to our team, Tracey. She volunteers her time helping with any behavior issues and basic obedience/training questions for the dogs in the rescue. We have a special section in our newsletters and on our website dedicated to Tracey's Training Tips. In these articles, Tracey will share her knowledge of dog training, dog behavior, canine body language and life in general with a dog. Her articles will provide some interesting information, suggestions, and tips in the hopes of helping new and seasoned owners continue to establish a lifelong bond with their canine family member.
Spring 2013
What Does "Sit" Mean Again?
(For ease of explanation, I will be using male gender pronouns when describing "your" dog)
Our family recently moved from one state to another. I could write a book about all the experiences we endured moving our dog and cat along with us, but one element stands out. So, I thought I would share it with you all.
Sometimes we are so caught up in our personal lives, we forget that the things we are going through affect our pets as well. How our pets are affected depends greatly on the kinds of experiences they have had in their lives and who they are as individuals. My dog, Sadie turned 10 years old in February and has been trained by me since she was about 3 months old. Believe it or not, during the first few days of our move, she seemed to forget what to do when she heard the word "sit." In reality, however, she hadn't forgotten. She truly didn't know what to do. The remedy? She needed some generalized training.
When dogs learn a behavior, they often associate that learning experience with their environment. This is why, sometimes, dogs know "sit" in their home, but seem to forget what it means when they are someplace else. What they haven't learned, actually, is that "sit" means "sit" no matter where they are. To learn this, they need to practice of all their "tricks" or behaviors in a variety of situations and places, even with different people. This is called "generalization." Often times, puppy-training classes focus heavily on teaching young'uns how to generalize. This is a good thing. However, we forget that even older dogs, who have years of training under their belt, need help with it, just as I experienced with Sadie. Sadie has been many places with me over the years. But she had never been to the hotels we stayed at on our trip to our new home, and she certainly had never been to the apartment in which we now find ourselves living temporarily. New smells, new sounds, new sights…exciting, but kinda scary! So, although I was stressed with the whole relocation process, I realized right away that I was going to need to be patient with Sadie when I asked her for any of her typical behaviors because the first time I asked for a sit in a new place, she looked up at me like "what??" As such, I took a step back in my expectations of her.
I knew that she would learn to sit in the new places quicker since she had known "sit" before the big move, but I took the time to practice it with her few times each day, as if I was teaching her to sit for the first time. For example, I asked for a sit and then waited for her to process the request. If her attention was diverted from me for some reason, I would ask again. When she would finally try offering a sit with a look of "is this what you wanted?", I marked the correct behavior (her sitting) with a smile and a "yes!" and gave her a treat or placed her food bowl down or leashed her up or let her out the door, etc. She picked it up quickly. And the patient re-training made her realize that not everything in her world was different. She could find security in the fact that "sit" still meant sit.
So, anytime you experience changes in your life, from as little as having a house guest to as big as moving to another home, be aware that your dog might need some patient, generalized training to show him that though some things are different in his life, some things are still the same.
Remember to have fun with it! Dog's love learning new things and they are excited by the things they DO know!
Content Copyrighted 2013. Tracey Derheim. All Rights Reserved.